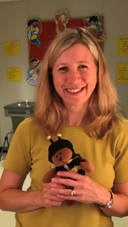 4K
Mrs. Brzezinski
jbrzezinski@saintjosephschoolinc.com
Hello!
My name is Jane Brzezinski. I am excited to be starting my fourth year teaching 4K at St. Joseph School!
I have over 20 years of experience teaching young children in preschool, Head Start, and kindergarten settings. I attended UW-Green Bay, earning a Bachelor of Arts degree in Human Development and DPI certification to teach Preschool-Kindergarten. I also have a Master of Education degree in Integrated Teaching through the Arts from Lesley University.

Together with my husband, Bryan, we share four children and a dog we adopted from the Humane Society. My interests include art, music, reading and recycling. I enjoy crafting, making cookies, riding my bike, watching Packer games, and spending time with family and friends.

I call the children in my class "Busy Bees." I look forward to watching my "Bees" buzz with excitement as they have fun and learn over the school year!
Specials Schedule
Monday: Music and Phy-Ed
Tuesday: Spanish and Phy Ed
Wednesday: Art Assistance
Thursday: Spanish
Friday: Music and Library
Themes for December
Advent/Holiday Celebrations
Christmas
Gingerbread
Bakery Shop
Important Dates for December
7 - Field Trip to the Railroad Museum
12- Book orders due
14- Evening Christmas Concert
20- 4K Attends Mass at Nativity
22- Gingerbread House Making Day (8-9:30 am)
Red & Green Day
Early Dismissal at 11:30
25- Merry Christmas!
25-Jan. 1 - Christmas Vacation



Click Here to open this week's newsletter:


---