grades 6 - 8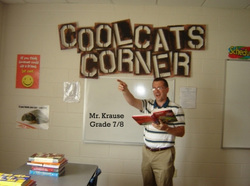 Mr. Krause (email)
Hello,
I have been a resident of Northeastern Wisconsin the majority of my life. After high school I joined the military for 3 years and lived in many places throughout the United States. After military service I attended the University of Wisconsin -Green Bay and completed my degree in elementary/middle level education with an emphasis in mathematics.
I've taught for 17 years to include placements like: Holy Cross School, SJS, and currently Saint Joseph School Inc.
Welcome to another great year at Saint Joseph School. I'm honored to teach each and every one of my students. I hope they are ready to learn a lot and have some fun along the way.
If you have any questions or concerns, please feel free to contact me by phone through the office or by e-mail. (Hint: I check my e-mail more often than my phone messages.)
Mr. Krause
Email me
---
Important dates In december:

(F) Dec. 1 - Popcorn Day
(F) Dec. 1 - $1 dress down day
(M) Dec. 4 - K-5 Cub Scout Info
(W) Dec. 6, 13, 20 - Mass @ Nativity
(R) Dec. 7 - Gr. 2-8 NDA Christmas Concert
(R) Dec. 7 - Holiday Treasures Shopping for students
(T) Dec. 12 - Gr. 3-8 Reconciliation 1:30-2:30
(W) Dec. 13 - Dress Rehearsal 12:30 - 2:30
(R) Dec. 14 - Christmas Concert 6:30 P.M.
(F) Dec. 15 - Gr. 6-8 Bell Ringing in Mall 9-10
(W) Dec. 20 - Mid-quarter reports go home
(R) Dec. 21 - Alternative date for Christmas Concert
(F) Dec. 22 - Red/Green Day / Early Dismissal 11:30
Dec. 23 - Jan. 1 - Christmas Vacation
Jan. 2 - School Resumes

8th grade announcements

An e-mail will be sent within the first couple weeks of school to discuss fundraising options.

We will need to set up a time within the first 3 weeks of school to discuss fundraising options.

At that meeting we will want to decide which fundraisers to do and who would be leading them.

We will be spending a few recesses discussing places for our class trip. More information will be sent when we have dates set up for graduation and the class trip.

Potential Fundraising Opportunities:
Popcorn Sales:~$160
NDA dance:~
Candy Bar Sales:~
Magazine Sales: ~$2000

Assignments for december 12, 2017

Algebra I - 228 (3-42) 1/3, 229 MR
Math 87 - Lesson 50
Math 76 - Lesson 53
Science - none
Soc. St. 87 - Sh 17-2
Reading - 408 (1-6)
Computer/Keyboarding - Gr. 6-7 Beginner Lessons 9 and 10, Gr. 8 Intermediate Lesson 9 and Test 2
Soc. St. 3-5 - Research
Science 3-5 - Unit 2 test
Special Projects - Gr. 3-5 project ongoing
Special Announcement - All missing assignments are due Thursday, Dec. 14