Music



Things we've been doing:
Preparing for our CHRISTMAS CONCERT!!!
Hope to see everyone there.

---
About Our Music Program

The music program at Saint Joseph School Inc. incorporates singing, movement, composition, reading, and performance at all levels throughout the year. Projects are integrated with other areas of our curriculum as well.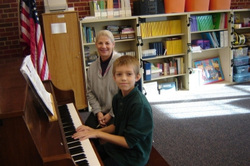 Mrs. Druckrey offers piano lessons
Private and Group Lessons

Private or small group vocal and instrumental lessons are an excellent way to develop and enrich every child's musical talents. Piano lessons with Mrs. Druckrey are taught during the school day and are scheduled with the classroom teacher at the time that is best for your child. Mr. Davies teaches a wide variety of band instrument lessons. For more information on band lesson please talk to Mr. Davies and pick up an informational flyer.
---